Technology
iOS vs. Android App Development: What's the Difference?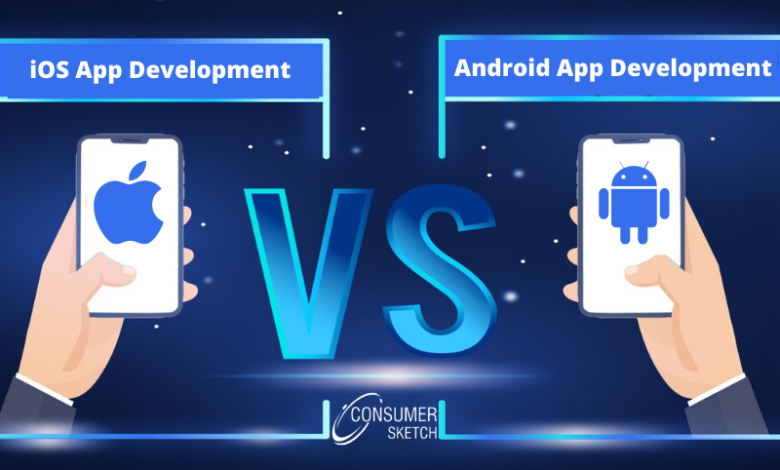 Not to mention, creating a mobile application is a big decision. It is important to determine the right platform to release your app before reaching out to your local mobile app development company in Vadodara. Here starts the battle between Apple's iOS and Google's Android. You might not find any comparison between the two. But a tech-savvy person can show you the difference.
The Key Difference Between iOS And Android
Mobile app development is one of the fastest-growing fields in the software industry. The demand for useful and fast-functioning mobile applications has been increasing daily. Statistically, more than eighty percent of people across the globe spend their time online on mobile applications.
Besides, for more than two years now, mobile app development has experienced a huge influx of interest since everyone was forced to move entirely online. Before you hire mobile app developers, there are two main platforms you need to determine: iOS and Android. Both are the ruling leaders in the software market. They offer incredible development possibilities. However, it is crucial to compare both before making any decision.
Here we will review the benefits and drawbacks of iOS and Android app development.
Android App Development: Benefits
Flexibility: Android is more flexible and has fewer restrictions than iOS. When it comes to distribution, android apps will run effectively on any android device with no hardware compatibility issues. The Android app development process is more flexible. Moreover, it relies on Java and allows for a seamless development experience.
Learning facilities: Google shares its wealth of knowledge for novice Android developers, including exercises and interactive materials. It also offers comprehensive training programs useful for training developers at different levels.
Launching the app: Google has become less kind in the past few years towards publishing apps on Google Play. Where the review process was done within seven hours automatically, developers now have to wait for around seven days for the same. Notwithstanding, most Android apps get approved if they do not violate the company's content policies. In addition, developers have to bear an affordable, one-time registration fee.
Compatibility: Android app development refers to creating software that functions seamlessly on various devices. An Android app can run on Daydream, Cardboard VR handsets, Wear OS devices, and various platforms. This flexibility can lead to design issues, allowing you to integrate your app into your phone, car, TV, and smartwatches.
IOS App Development: Benefits
Functionality: iOS app development is highly in demand because of the seamless functionality it offers. iOS apps are reliable, fast functioning, and easy to use. Besides, they have very few bugs in the final figure.
Apple's ecosystem: Now, this point could fall under either of both categories. Where you get only one system, say the iPhone, to run a private OS, it often becomes inconvenient and difficult for users to transfer files from one device to another. Besides, this operating system allows developers to create apps for the entire ecosystem of devices rather than for some specific phones.
Smooth and sound UI/UX: Apple offers detailed instructions to developers about creating a user interface. Though restrictive for some, it often guarantees an exceptional user experience.
Android app development: Drawbacks
Quality control: Although the fragmentation allows developers to create apps for multiple android platforms at once, the testing process can be extremely complicated. Developers often have to do fixes even for the simplest apps since many people stick to the older OS versions instead of updating them at the right time.
Cost: Android app development process is more time-consuming than iOS. The cost rises high, respectively, in development and quality assurance.
Security issues: Android is an open-source platform. It has a greater chance of falling victim to cyberattacks.
IOS App Development: Drawbacks
Inflexibility: Native iOS app development requires software like XCode that only runs on Mac. However, developers will need a minimum of one other slice of Apple technology to develop an app for iOS smartphones.
Launching: Apple store is more rigorous than Google play. Even if your app doesn't violate any rules, chances are there for it to be rejected if it is not relevant or useful enough.
Customization: iOS limits your ability to customize your application's interface. In addition, it could be challenging to add features that require third-party software interaction.
So what will you choose first? iOS or Android?
Consider the elements treated below when deciding between iOS and Android app development.
Location
Budget and time
Target audience
And how unique the interface should be.
There are many more things to compare between Android and iOS app development. This list only has a few most important points you may require to decide on. It covers the most important points you should consider while choosing the right platform to host your first mobile app.
In a nutshell
It is not easy to decide between Android and iOS app development. If you have a good budget and are looking for a narrow premium segment, iOS is the best option. Additionally, if you have a limited budget or aim at a global audience, Android is a better option.
Mobile app development is a challenging process. However, it is ideal to Google out the best professional app development company near me. Interview the best two to three companies you can trust and ultimately hire the best one.