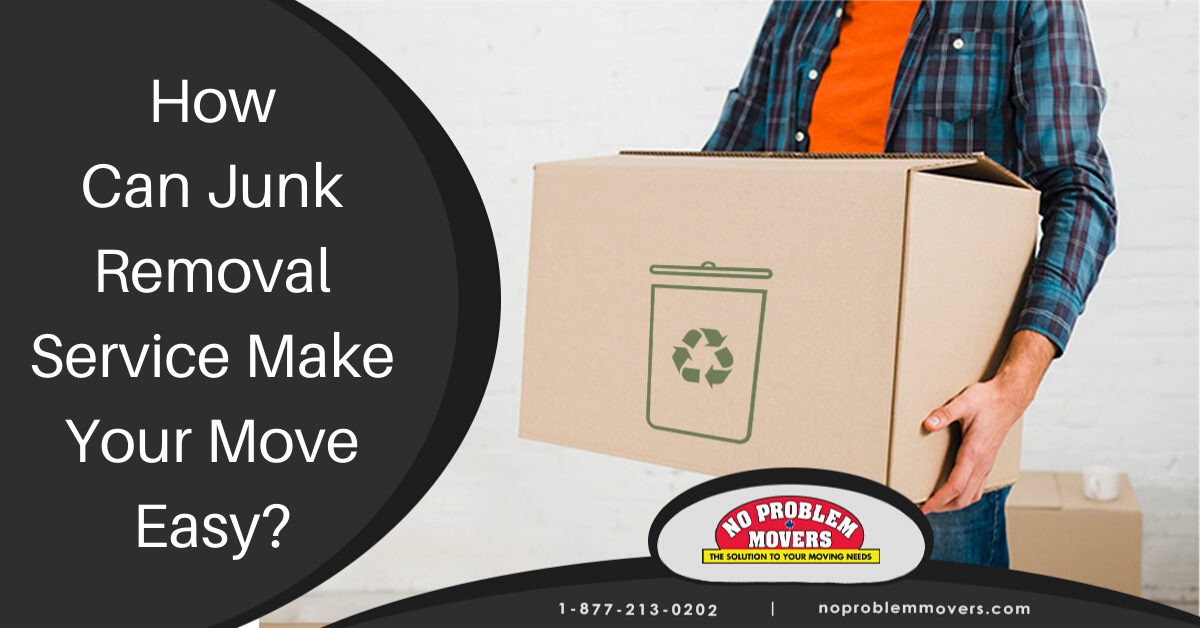 When packing your precious belongings while relocating, you may get various rubbish items to declutter at your space. Nothing can get in your way more than unwanted junk items, or vast and bulky belongings that could be hard to fit in a moving vehicle. Not always we get the right source to remove these items. Decluttering junk items takes both human resources and time if doing it by yourself. You or your team may not know what you can do with those to be removed items. In this situation, it is good to call a professional moving and packing company that also offers junk removal service.
Moving to a new destination away from your locale is indeed an overwhelming and exhilarating job. There are many things to handle; packing your belongings, contracting with professional moving and packing services provider, clearing everything unused and unrequired, packing, loading, unloading, and unpacking your items, and finally, organizing things at the new house. When it comes to clearing your home, it refers to removing the junk, which is further a stressful process. However, following the right junk removal hacks, if you can find out the right ways for the disposal of all junk items, your moving experience is going to be more comfortable and smooth.
On-time declutter saves time and money
Transporting things you are not going to use in your new house makes no sense. Therefore, it is good to declutter all the unneeded stuff before moving. Removing all unwanted material will save you both time and money. Look through all your possessions. Separate big items like old furniture that are still in good condition and organize a garage sale. You may also get various online portals where you can sell or donate all unneeded items to local charities. They can come and collect the stuff. Before the final moving day, it is good to minimize as much clutter as possible. Keep in mind; the more junk you remove, the less stressful your move will be.
A checklist keeps the move well organized and budget-friendly
It is hard to remember and carry out multiple things. Prepare two separate lists – one for things you need to do first, what next, and the timeline to complete the tasks, and one for rubbish that is to be donated, sold or collected by the junk removal company. Knowing what is to be removed beforehand will help you budget for the required services.
Pre-packing gives enough time to deal with junk
Packing is a time consuming and stressful task. It is good to start packing your belongings early rather than waiting for the moving day. You can even start packing your possessions a month prior. While sorting out the items, you will come across a lot of unused items you haven't used for long and indeed may not need in the new house. Packing at least two weeks prior will give you some time to deal with the junk removal.
Expert junk removal services are more beneficial
Leaving your existing space clean and junk-free is very important. It is a good idea to get help from a professional junk removal company to ensure that no junk is left behind. However, if you want to gain the best benefits from the junk removal services, you will need to be well-organized. Shortlist the items you don't need. Doing this, you will help the team learn what items are to be taken away.
Sorting out all electronic and hazardous junk items ensures the safety
If your junk items include some out-fashioned electronic items, keep them separate from the rest of the things. Electrical elements may need special handling while removing. However, ensuring your safety, make sure that the junk collectors don't mix the hazardous electronics with the rest of the waste. Before signing the contract, ensure what items the junk collectors will handle and what they won't.
What makes moving the right time for removing junk?
Many people are good at keeping their home as well as the storage space nicely organized. Are you one of them? Items you rarely use or haven't used since long are usually stored at some spot in the house. Basement or garage around the house are traditional homes for many junk items we no longer need.
We sometimes think we may someday need the item again, but usually, we forget about it. Also, we pack and store sentimental gifts or things, but most of them we don't even see. When planning to move, we go through all our possessions and pack them for the move. However, if you are preparing to move soon, it is the right time to call professional junk collectors and get rid of the things you don't need. Doing this, you will need fewer boxes to transport to the new destination.
Donate
You may have various items like clothes, toys, furniture, and other purposeful stuff. Relocating is the best opportunity to donate them to someone who might need them the most.
Save time
Packing piles of items and transporting them to the new address is a time consuming process. Indeed, you will not want to spend so much time packing, moving, and unpacking if you get the chance to avoid it. By contracting for the best professional moving and packing services to remove all your unneeded items, you are likely to transport fewer items to your new destination. Significantly, you will cut down the packing and unpacking time. Getting the right hands for help will get enough time to experience the fun part of moving, i.e., relaxing, setting up your new space, or filling your pantry with healthy, fresh food.
Make space
If you are planning to store your junk in the pantries, closets, attic, garage, basement, or other storage areas of the new house, you are merely wasting much space. And, if your new home is comparatively smaller than the old one, moving with the unneeded items is not at all a good idea. However, it is good to get rid of those unused items and store the required things into the storage space and decorate your house with new beautiful things.
Ultimately, give your house a fresh look
Getting rid of junk before getting into the new address will provide you with the best opportunity to organize your new space in a way that makes you feel like a dream home. Bringing only the items that you need the most will keep your moving process simple and easy. However, it will give you a fresh, well-organized, and clean new home.
When carrying out the task, consider hiring junk removal Mississauga services. A professional company will have the expertise in all aspects of packing and moving, from preparing, scheduling, and packing to unpacking and organizing the new space. However, many packing and moving companies offer junk removal services. They have a highly trained team and adequate equipment to handle the process.