Technology
Learn the Fastest Way to Convert Your Excel Files to PDF!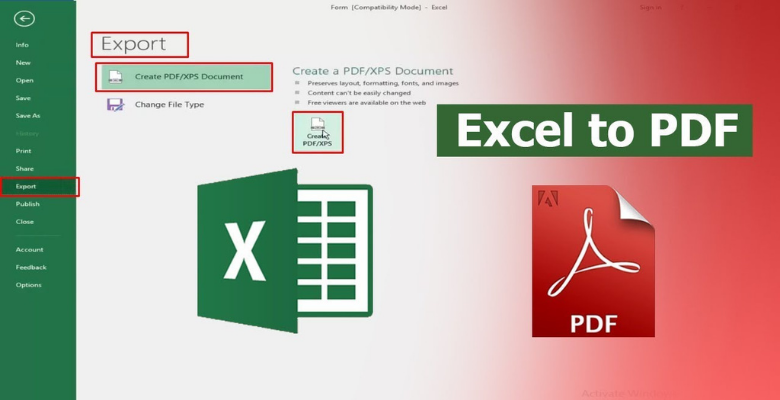 We want to present our data and spreadsheets in the best way we can. We are assured if the viewer gets to read the file without any trouble like misclicks and unintended modifications. This is why most people convert their Excel files to PDF.
If you are thinking that converting files to PDF is such a hassle and you do not want to go through all the trouble, you must have not yet met GogoPDF because, for sure, the site will change your mind!
GogoPDF is a web-based PDF tools and services provider that has a wide range of utilities that users can use for free such as file conversion, repair, optimization, organization, e-signing, security, and PDF viewing and editing. Give the site a try as we guide you with just three easy steps, and for sure, you will keep coming back for more because of a wonderful conversion experience.
1. Upload your Excel file to GogoPDF
First things first, you will have to be on the GogoPDF website. On their homepage, you will find an array of different PDF-related tools and services. Look for the Excel to PDF tool, click it to be directed to the tool's page. Once we are on the Excel to PDF tool page, we can begin with our conversion!
We start by uploading the Excel file to the server. To do that, click the Select Files button in the center of the toolbox. Your device's file library will appear in a pop-up window. There, locate your Excel file, click it, and click the Open button. The Excel file will be immediately loaded to the server.
There is another method to upload your Excel file if you are using a computer or laptop. It is also an easier option if you ask us. All you will have to do is select the Excel file in its file location, drag it using your mouse, then drop it to the assigned area of the tool page. The same thing, your file will load right after. Both methods are convenient and easy so do whatever suits you and your device.
You can only upload Excel files one at a time if you are using the site for free. But if you wish to upload and convert multiple files right away, you can try availing of GogoPDF's membership plan to have access to their pro features. You can test their membership plan out first with their free trial. Since it is free, there is really nothing to lose, so make the most out of it and explore GogoPDF's wide range of pro tools. This is so you will know for yourself if the plan is worth it. For sure, it is!
2. Wait for the conversion process to finish
This might not count as a step because we will not do anything besides waiting. Here, the site will do all the conversion work for you.
After the Excel is uploaded, the site will automatically prepare and process your file until it is ready to proceed for conversion. And then, your file will be converted from Excel to PDF in just a few seconds to a minute, mostly depending on your file size and the speed of your internet connection.
Still, you will not feel that you are waiting because the conversion process will be very quick. However, despite the speed of their work, the quality of your file's output will never be compromised. GogoPDF ensures all users that they get their desired output in its best quality with the fastest and fantastic services they provide. So you are in good hands! Just a few blinks, and we can now finish up in the last step!
3. Download and share the PDF file
Finally, we are down to the last step, and we are done. In the last step, you will be welcome to a new page where you download and sharing options are available to utilize. Amazing, right? The conversion process is a whole package with GogoPDF because even saving and sharing the file is convenient.
To save the PDF file to your device, just click the Download button, and it will be directly saved. The initial name of your Excel file will be retained even after it is converted to PDF. But if you want to rename the PDF file before downloading or sharing it, you can do it only if you have access to GogoPDF's pro tools through their membership plan. Remember, you can check out their free trial if you have not yet.
And as mentioned previously, GogoPDF provides tools that will help you share your PDF file even better. You will find a generated shareable link that you can copy and send to as many recipients as you can. You can utilize this to level up your file-sharing work and make it more easy and convenient. By just clicking the link, your recipients will also be able to download the PDF file through the site. You do not have to upload and sent it to them one by one.
GogoPDF also allows you to send the PDF file via e-mail through their site. You can even write a personal message for your recipients. To do this, click the Mail button and enter your e-mail address, as well as your recipients'.
Now that you have your PDF file, GogoPDF will also present a few tools that you might want to use from there. You will see PDF tool buttons such as Merge PDF, Split PDF, PDF to JPG, and Edit PDF.
Takeaway
You just visit the site and upload your Excel file, and the next thing you know, the file is already converted to PDF and ready for download and file-sharing! What a convenient experience. It is assuredly fast and very easy to do. All this is possible with the help of GogoPDF!
And if you are having second thoughts about uploading files on the Internet, there is no need to worry about that with GogoPDF. The site is safe and secure because they have a very strict privacy and data security policy. Uploaded files in the server will be deleted after an hour.
You can always go back to GogoPDF and check out more of their PDF-related tools and services if you need anything concerning your files. Your friends and co-workers might need to know about this site too, so go on and tell them!