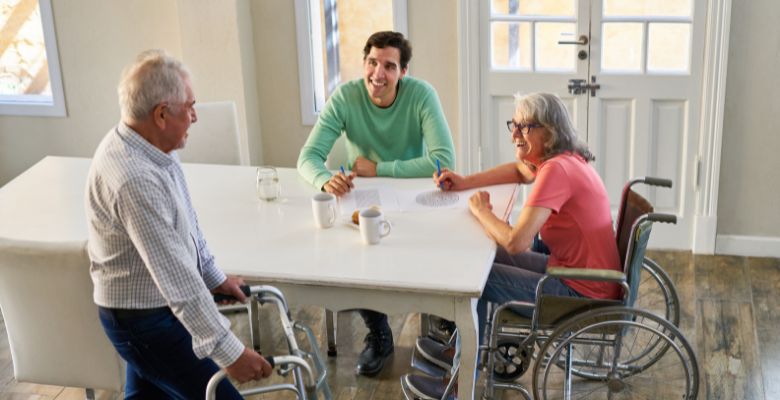 It can be difficult watching your parents grow older and becoming less dependent. You may even find yourself helping them out with everyday tasks as the years go by. Caring for elderly parents in their old age is a natural development, but providing some assistance now while they still maintain their independence is a great way to help them age better. Here are a few ways you can help your loved ones as they get older.
Visit Often
Studies show that the damage loneliness has on a person can be as damaging as smoking 15 cigarettes a day. Staying in touch and keeping a connection strong with loved ones can be difficult for many reasons. Priorities change as you age, and old friends can lose touch over time. Not to mention, as your parents reach a certain age, friends and family in the same age group may have already passed away. With fewer loved ones to speak to, it can be easy to become socially isolated. Try to call in on your parents regularly to see how they are doing.
Have a Regular Catch Up
Keeping communication channels open with your parents and speaking to them about what's going on in their lives can help them feel more connected. If you are based far away, and cannot physically visit, make sure you get into the habit of giving them a daily call. This small act takes up very little of your time, but it can do a whole lot of good to someone with an empty schedule.
Encourage Healthy Eating
Some older people who live home alone do not place much focus on eating a nutritious diet. Cooking for one can feel like a waste of time and resources, and some people may prefer to zap a ready meal instead of preparing a nutritious meal. Microwave meals might be convenient, but they are often processed and full of salt. Encourage your loved one to cook more using wholesome ingredients instead. Preparing meals from scratch needn't take a long time. Not to mention, batch cooking allows them to freeze and reheat hearty meals conveniently. In addition, some older adults do not eat well, or they eat a lot less because they have difficulty swallowing food and drinks. SimplyThick is a food thickener that can be added to hot and cold fluids. It can help your parents consume nutritious food with ease.
Help Them Stay Safe at Home
A lot of older people prefer to live at home for as long as possible. However, as you age, your cognitive and mobility skills can worsen, which can make you more accident-prone. In fact, the leading cause of injury in U.S seniors is trips and falls. Although your parents may seem fine now, it only takes a single fall to reduce their quality of life. When you visit, take the time to scout out their home for potential hazards. Encourage them to keep walkways and stairs clear, make sure there are no dark areas in the home, and check for broken floorboards and loose carpet. Taking these small precautions can reduce the risk of injury.