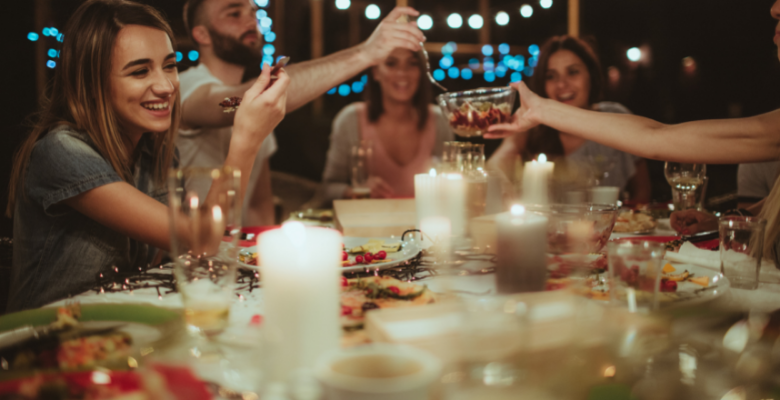 Sharing meals with family and friends is a wonderful way to enjoy delicious cuisine and good company. Arranging and hosting a dinner party is a great way to incorporate a love of entertaining – or just being with loved ones – and a passion for food.
Of course, one problem that dinner party hosts often encounter is how to keep the meal tasty yet healthy. With that in mind, here are some ideas of how it can be done so you can have a great dinner party and not have to worry about anyone's health.
Offer Healthy Snacks
Many dinner party hosts like to offer some snacks when their guests arrive so that they can take their time with the meal and their friends and family aren't impatiently waiting for food, feeling uncomfortable. If you ensure that these snacks are healthy ones, you're off to a good start.
Olives, various types of nuts, and fresh fruit are all excellent items to add to a grazing dish, as are raw vegetables such as carrots, cucumbers, celery, and capsicum, along with a homemade low-fat dip like with hummus.
Make Your Own Sauces
As a good weight loss specialist in Atlanta, GA will tell you, when you make your own food, it is often much healthier than when you buy it from a store. To make your own salad dressings and sauces for major dishes, it's very simple. You simply need to combine vinegar, olive oil, spices, and lemon juice. The dressing or sauce you choose can make or break the nutritional worth of the meal, so be careful; did you know that store-bought salad dressings and sauces often include high levels of processed sugar and harmful fats?
If you're preparing a pasta meal, consider making your own spaghetti sauce instead of buying store-bought. These sauces are very flexible and can be used for more than just pasta – try them with baked potatoes and other meals as well.
Include Lean Protein
To keep your visitors happy, a balanced dinner should contain lean protein. A backyard BBQ complemented by an assortment of fresh and tasty salads is a popular way to share meals in the summer, but try grilling fish instead of typical barbecue meats, or make nutritious vegetarian halloumi fritters or similar dishes that are always popular and are much less fatty than a lot of other types of food.
Even if you're not having a barbecue but instead are having a traditional dinner party, you can still use lean proteins as the bulk of your meal. Fish may not be the first thing you think of when planning dishes, but it is extremely versatile and will make a change from the usual foods served at these events.
Finish With Peppermint Tea
Peppermint tea may be the ideal way to cap off a wonderful dinner with friends and family. Peppermint tea can assist with digestion, and the mild sweetness of mint can help with sugar cravings, meaning you don't have to provide an unhealthy dessert and can offer something fruit-based instead. However, if you still want something sweet, try some dark chocolate; this is healthier than other kinds of chocolates but still feels like a treat.