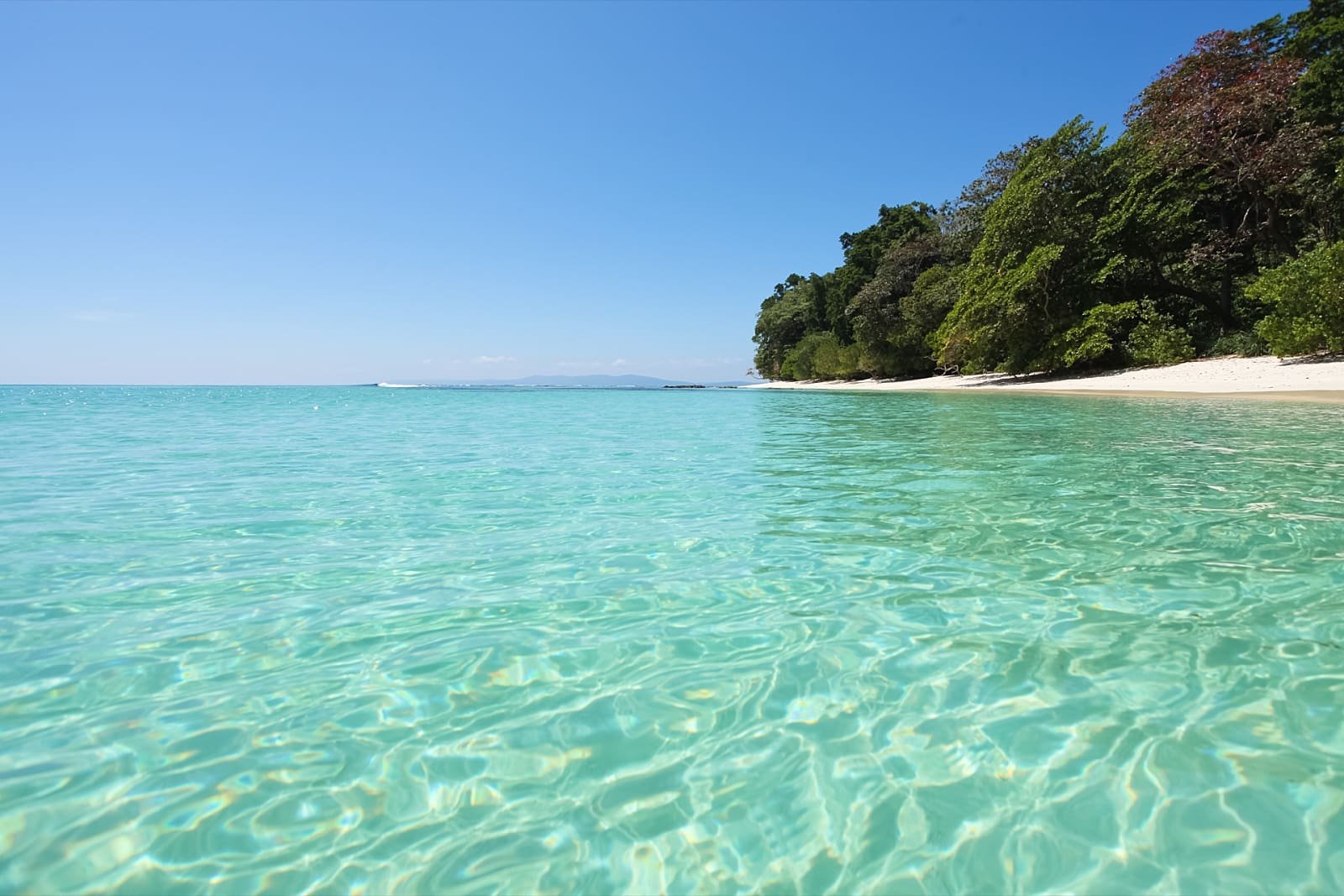 For the romantic moments that you want to spend together, you must pick an island where both of you can have some quality time amidst pristine nature. The beaches and romance have a lot deeper connection than what it seems. You get to do a lot there together.
Go snorkelling and scuba diving that will not only connect you to nature but also to each other. Or, you can simply hold hands and walk along the beach and bask in the sun or explore the romantic forest areas. So, if you are looking for the list of beaches that are perfect for a couple, here's the list. 
8 Top Beaches in India where Couples can Enjoy
1. Beaches in Havelock Island
In the islands of Andaman, Havelock enjoys its scenic settings away from the chaos of mainland India. With the perfect sun, sea and sexy islands, this is a perfect getaway destination for couples. It is curated well to cater to the beach lovers, has the picturesque settings and the isolation much needed for the couples to connect romantically.
When in Havelock, you must visit the  Radhanagar beach and enjoy its s impeccable coral reef and sunset view. If you want to go snorkelling and other water sports, the Elephant Beach is the best destination.
2. Beaches in Neil Island
Neil Island is another heaven for couples that lie to the south of the Andaman Islands. The beaches on this island are named after the Hindu mythological characters. But there's more to what makes this island special.
There are many isolated and pristine beaches that are perfect for couples who want to spend some quiet time together. The island has a different vibe to it and it relaxes you to the core. A couple must not miss out on visiting the beaches here.
3. Beaches in Diu Island
Sitting in the south of Gujarat's Kathiawar peninsula, in the west coast of India, Diu has kept quite a low profile for the longest of time. It houses several scenic beaches and tourists spots that can be visited at any time of the year.
In winter, this place hosts Asia's longest beach festival starting from December and stretching till February. The beaches here have so much to offer. You can relax here or engage in thrill. One must visit the natural caves; go out for activities like swimming on the Ghoghla Beach.
4. Beaches in Diver Island
Goa is more than you can ever see and enjoy. Not many know that there is an island in Goa, Divar Island. It is situated on the Mandovi River and has a lot to offer for adding to your romance and experience.
It is divided into three main villages namely Naroa, Malar, and the largest of all Piedade. You can stay at a heritage property, visit the temples, churches and of course the beaches.
5. Beaches in St. Mary's Island
When it comes to beaches and islands, Karnataka isn't far behind. Off the coast of Malupe in Udupi, the Thonse Par or Coconut Island is there. It is popularly known as the St. Mary's Island.
It is well lined with coconut trees, presenting a contrast with the azure Arabian Sea. This island is made of four islets that make one of the 26 Geological monuments in India. The only drawback of the beaches here are they aren't sandy, so you can't relax or swim here.
6. Beaches in Little Andaman Island
Stunning waterfalls, the best of sandy beaches and activities like surfing and boating through the creeks, the beaches on this island offers more than perfect destinations for couples. You get to enjoy the unexplored beauty of nature with rich and biodiverse rainforests.
The Butler Bay Beach is the best spot if you want to surf while if you love trekking, go for the Kalapathar Limestone Caves. There are also many breathtaking waterfalls like White Surf and Whisperwave Waterfall offering a romantic getaway for the couples.
7. Beaches in Bangaram Island
When we are talking about beaches, how can we not talk about Lakshadweep? It makes a stunning spot for the couples with all those glorious beaches. This archipelago has islands that can make you instantly fall in love with them.
The silken sand and turquoise water ignite the spark between the couple and since it is lesser inhabited, it offers the quietness and solace that every couple seeks. Here you can do nothing and still be happy.
Get cozy, take a romantic walk, watch the sunset and kiss and yes, dine in the beach restaurants. What else would you want? Also, if you are the water sporting kind of couple, you won't be disappointed. You can go deep sea fishing and scuba diving here as well.
8. Beaches in Agatti Island
While you are on to exploring Lakshadweep, this island will be your default visit if you are airborne. Yes, you got that right. Agatti is the only airstrip in the archipelago connecting Lakshadweep to South India.
The 7.6 kilometres of this island has a huge variety of underwater sea plants, creatures and corals that are amazing to explore and takes time. Couples can go scuba diving, deep sea fishing, kayaking, skiing, and sailing.
This island has a lot to relax and spend some cosy time together. From here you can many other uninhabited islands and their beaches.
These are a few islands that are full of the most amazing beaches couples can ever find in India. These beaches are different from mainstream beaches with a lot to explore and these beaches also offer occasions to relax and have the fun time together.
Holidaying in these beaches gives you time to connect together and to nature as well. Make sure you visit these beaches and the islands for some time away from the mainland chaos and crowd, at least one of them.