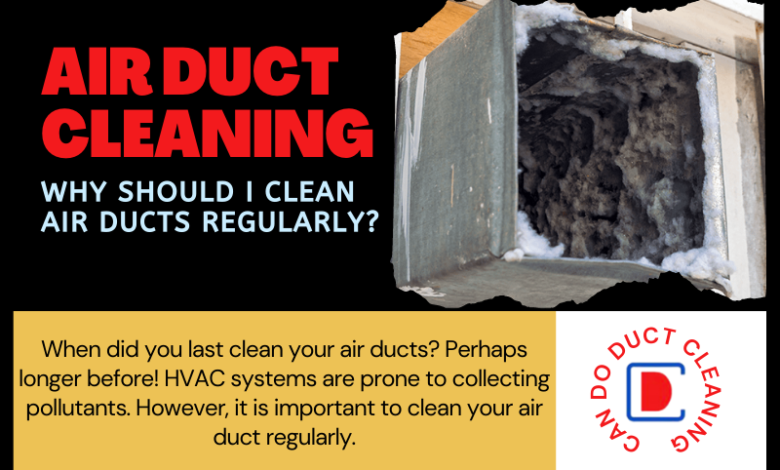 People everywhere are aware that indoor air pollution is a serious issue of concern. Many companies across the globe market products and services guarantee to improve indoor air quality. You might have come across adverts or received an online coupon offering the best cleaning services for your indoor air ducts. These adverts and coupons often spring up a topic of concern in your mind, i.e., whether you should clean your air duct regularly?
Importance of Regular Air Duct Cleaning
Regular air duct cleaning improves the indoor environment and ensures that your HVAC system works at its best. Periodic air duct cleaning can impact indoor air quality, airflow, system performance, and energy bills. It can also affect the health of everyone living in the house. Breathing fresh air prevents various health hazards often caused by piled-up dust, debris, pests, and mold in your home.
Here's what regular air duct cleaning can offer:
Duct cleaning removes the debris clogged in the duct and allows fresh air circulation all across the room. It improves the air quality by not allowing the air to pile up the debris and dust present in your house's interior. Clean your air dict regularly if you have kids or pets at home. Regular duct cleaning is precisely beneficial for kids' good health. Regular duct cleaning service is a must for homes with a lot of foot traffic.
Up-to-date system performance
Regular duct cleaning helps your furnace and AC system work more efficiently by improving air circulation. Dust lowers the air circulation. Moreover, reduced air circulation makes the system work harder to achieve the desired results. A simple cleaning process will increase the performance and ensure that your unit gets the best value. Regular filter change also improves air circulation.
To ensure flawless performance of your system for a long period, it is important to ensure its efficient working condition. A clean system doesn't have to work pretty hard to achieve the best results. If your HVAC system is clogged with dirt, it will likely work harder than required. However, it can have a shorter lifespan. Besides, regular system servicing and maintenance reduces energy costs and save you money over the long term.
Identify and troubleshoot system issues
Regular duct cleaning and maintenance help determine potential problems. If your system doesn't give you the desired results, call a qualified technician to diagnose the cause. Diagnosing and troubleshooting the issues affecting your system performance can reduce the cost of repairing or replacing the system. A good cleaning is all a system needs to perform as effectively as expected.
Cleaning your air ducts prevents health problems. It is particularly effective for those suffering from allergies, asthma, and other respiratory disorders. There are many health problems likely to cause by air pollution circulating in your house interior. Smoke, dirt, dust, and pet dander are the most common pollutants that directly affect people with allergies. However, duct cleaning will keep your interior space free of such pollutants.
Scheduled air duct cleaning will keep your home comfortable and safe. Moreover, clean indoor air is something you should consider hiring reliable air duct cleaning services in East York and North York.
Let experts handle the air duct cleaning job.
Only expert services can provide you with the best benefits. You can reap the benefits by hiring a professional duct cleaning services provider.
Your DIY approach can damage other HVAC components if you use a high-powered vacuum cleaner or brush to clean the dirty air ducts. Additionally, the overall cleaning process can also be less efficient than an experienced professional. Choosing a professional air duct cleaner is more desirable for the best cleaning result and HVAC maintenance in East- and North York, Ontario.
As time passes, the air duct is likely to get too dirty. The dirtier the ducts get, the harder they can become to clean. To deep clean the ducts, you might prefer to use chemicals that might not be good for indoor air quality. A professional air duct cleaner will have the skills and expertise to clean the ducts with the right cleaning products. Experts will clean the ducts without causing damage to their structure or the interior environment. And an expertly cleaned duct will offer you and your family fresh and healthy air.
There are different types of air ducts
Not all air ducts are the same. Different ducts will call for different cleaning processes. Only a professional air duct cleaner knows the right process for each type of air duct. However, booking a duct cleaning appointment with a highly-knowledgeable HVAC expert is crucial.
Hiring a professional duct cleaner is a cost-saving move. Duct cleaning takes in many expensive, high-quality equipment. In short, your Do-It-Yourself approach can cost you valuable time, energy, and also money. But, professionals are equipped with the right equipment.
A tech team will inspect your HVAC system in person the soonest you contact a professional air duct cleaning York company. The expert will inspect and recommend you the necessary steps to improve the efficiency of your furnace and air conditioner.
Regular duct cleaning services will only benefit you. But the only way to get all the benefits is to hire the right duct cleaning services in East York and North York. Reaching the air ducts and cleaning them will be a tough job. However, it is crucial to hire an experienced professional to clean the ducts thoroughly. Book a duct cleaning appointment today if you want to get the best advantage of professional services. Professionals can provide you with top-notch duct cleaning services, including other services to help you resolve any heating and cooling problems. Subscribe to our website to read more informative content.