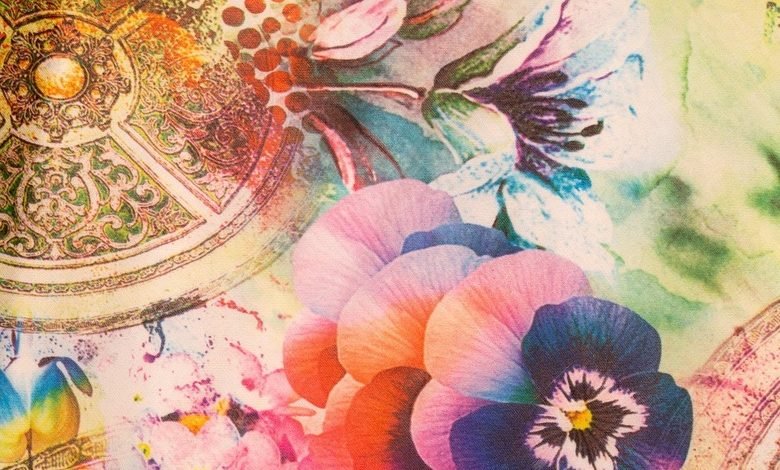 Since it might be difficult to obtain the precise cloth you want, you can just create your own. There are several fabric printing procedures, each of which produces a unique outcome. The type of textile printing utilised is frequently determined by a variety of factors, ranging from print runs to durability. Many "myths and legends" seem to surround fabric printing. Our clients frequently struggle with understanding and selecting the best process for fabric printing, which has a huge impact on the ultimate outcome of their work. The appropriate printing process, medium, and dye type will determine whether your product turns out exactly as you anticipated. We decided to compile everything in one location since we couldn't find a thorough and relevant description of printing kinds anywhere on the Internet. We really hope that we can make your decision much simpler!
Screen printing is a type of analogue cloth printing. Screen printing is the process of forcing paint through a printing screen consisting of a steel frame and a nylon mesh to create a print. This action can be done manually, and the paint is then squeezed manually through the screen, or using a machine, and the paint is automatically pressed through the screen by the machine. Screen printing preparation is similar to template preparation as particular areas of the grid are covered and a certain form is achieved on the cloth. Because each colour is a distinct layer, screen printing only prints one colour at a time. As a result, screen printing is not especially suggested for multicolour prints; digital printing is superior in such circumstances. Screen printing may be utilised on both material beams and ready-made clothing items such as T-shirts, purses, and accessories.
Screen Printing
Screen printing has several restrictions on what you may print, owing mostly to the manner in which the colours are applied. During a single-machine cycle, each colour is put independently on a separate screen in screen printing. It is quite difficult to execute smooth tonal transitions in print, resulting in a smooth/seamless transition from one colour to the next in the case of screen printing. A two-colour gradient, for example, is tough to accomplish. When printing relatively simple geometric forms with a limited number of colours, screen printing works well. Furthermore, because shading, tonal transitions, and precise reproduction of details are not its strong points, it is almost impossible to print photographs using the screen printing process. As a result, it is possible to overprint coloured textiles – for example, screen printing may be used to print white patterns on black cloth.
When should you use screen printing? For instance, suppose you wish to print 1000 linear metres of black material with white dots. The process of screen printing will be appropriate for carrying out a project with such a simple design. There is currently no better technology on the market for printing such designs on cloth. The foundation might be a black cloth with white dots applied with a single screen. As a result, the requirements include a big volume that covers the expense of printing screen preparation, undemanding designs, and the requirement to place colour on a very dark backdrop.
Digital Printing
As with digital printing on paper, digital print designs on fabric allows you to generate a single print without the upfront expenditures associated with printing screens. To put it simply, digital printing on a cloth works similarly to a home inkjet printer. In reality, this type of fabric printing imposes no constraints on the project – you may print any image on the fabric, with no restrictions on the number of colours or tonal transitions between them.
Printing is the process of transferring small droplets of paint on a cloth to create a design. The printer can replicate practically any colour from the standard colour palette using a mix of four basic CMYK colours and extra so-called spot colours. On the other side, digital printing has limitations: relatively limited options for employing specific colours such as metallic, fluorescent, or, for example, the PANTONE palette. Because digital printing is often done on white cloth, creating white dots on a black backdrop entails printing the whole surface black and leaving unprinted "white dots." As a result, choosing a different strategy is based on such a "tough" colour scheme as the screen printing method. Digital fabric printing is ideal for printing pictures, precise patterns, tonal transitions, and visually sophisticated designs.
DTG Printing
DTG is an abbreviation for "directly on garments". It is a printing technique that includes directly applying patterns and colours to the basis, which in this case is a finished apparel product. Sewing occurs prior to the printing process, and the components are ready for use the minute they are withdrawn from the printer. There is no need to prepare printing plates or screens when printing on cloth using the DTG process, which immediately influences and lowers the cost of small-volume manufacturing. The DTG printing technology allows for personalization even in small quantities. However, we have a restricted print area when using the DTG process. The smallest quantity printed begins with one piece. However, the higher the volume, the lower the unit price. The number of printouts, the size of the print, and the colour of the cloth on which the pattern is printed all determine the pricing. If the end product to be printed is not white, a white surface is always printed below the design, which considerably increases the price.
Roll Printing
This essentially implies that a powerful printer, similar to a home printer, but on a much bigger scale, is outfitted with a bolt of clean, unprinted fabric. During the printing process, the printheads apply dyes to the cloth surface. If you don't want to be limited by current print forms, digital printing on cloth is advised. It gives you the option of sewing from fabric that has been printed over the whole width of the bolt, printing in running metres, and cutting out sewing patterns from cloth just after printing. As a result, you are not limited in shape; you may make anything from cloth, including shirts, curtains, accessories, and home décor items.
Fabric Printing using Pigment Inks
It is frequently referred to be the "future of digital printing." It may be used to print on any type of fibre, however, it is most commonly used to print on cotton. Furthermore, this approach evolves constantly and rapidly in response to the demands of receivers. Printing on cloth is made generally available and of the greatest quality – here is where printing with pigment inks comes in. The second critical aspect is fabric preparation for printing. The cloth must be properly prepared before printing in order to deliver the desired properties. The unprinted cloth is soaked in a chemical that causes the pigment to "stick" to the surface, allowing it to keep its original appearance for a longer period of time. After the digital fabric printing with pigment inks process is completed, the printed pattern is set with temperature, without the use of chemicals, and most importantly, without the use of water. Very environmentally friendly! Calendars and special furnaces are used for this purpose. As a result, despite the fact that digital printing with pigment inks is surface printing, most digitally printed textiles may be machine-washed. The finishing and heating process significantly improve the use of pigment-printed materials. Printed with pigment ink on properly treated cotton, attractively printed cotton garments and knitwear will last longer.
Textile designers utilise various methods such as screen printing, transfer printing, digital printing, batik, marbling, block printing, and weaving. They all influence how a design appears on the completed cloth. When understanding a client brief, knowing which approach is best suited to which final result is helpful. The textile design process starts with a basic idea on paper and culminates with a printed fabric. Because digital media is more efficient than paper, designs may be visualised using digital programs such as Photoshop. Stripes, floral, geometric, checks, paisley, tropical, and other themes are used in the visualisation process. The primary component of textile design is the manufacture of cloth through numerous techniques such as printing, weaving, trace embroidery, and colour details. Following the development of the technique, virtual samples and prototypes are developed.
The Print School in Australia is a fabric design business that specialises in developing fabric designs. They teach gouache paisleys for fabric design, from concept to execution. At The Print School, you may learn how to design patterns using Adobe Photoshop for textile design and fabric pattern printing, as well as surface print patterns created by a team of gouache design specialists. With the best fabric design training on the market from a world-class textile design studio, you can learn valuable new talent. It may seem daunting at first, but once you've conceptualised your ideas on paper or digitally, and understand the various materials and printing procedures, you'll be able to produce beautiful, entertaining, trendy patterns and have the ability to print them on the fabric of your choosing.