Home Improvement
What Are The Best Flooring Options For Each Space In Your House?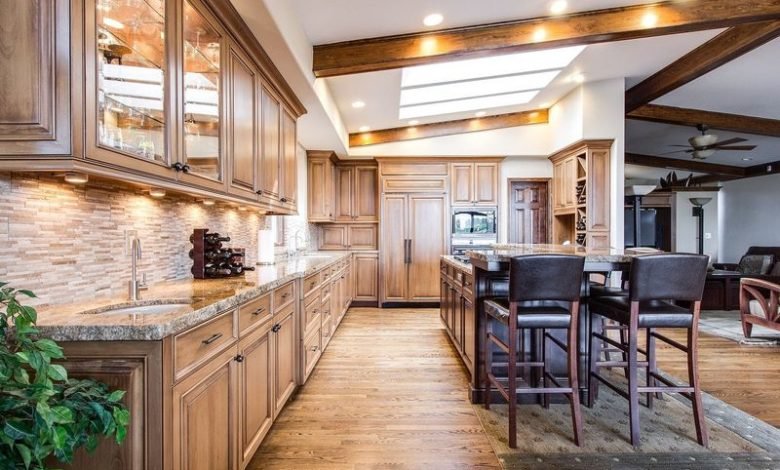 Floors are subjected to many attacks with an accumulation of dirty shoes in the entrance, muddy feet walking through the hallway, and chairs scratching across the dining area every day. However, while installing new flooring, it is ideal to think about the use of each room.
Different Flooring Options for Different Rooms
A living room, dining room, garage, basement, and all other spaces in your house deserve precise flooring that suits your style. Every space in a house is unique and serves different purposes. However, you cannot consider installing all flooring options in every room. In this piece of writing, you will learn some top recommendations for different spaces in a house.
The floor is considered the biggest surface in a house. Choosing the ideal flooring depends on the homeowner's personal preferences, budget, and lifestyle. Each flooring type offers its benefits. The best option for your particular space depends on the needs and location of each room. The popular options are prefinished wood flooring, vinyl flooring, engineered flooring, and carpet.
Learn more about the most popular flooring options, their best attributes, and how to use them.
Hardwood
Hardwood is a classic and elegant material. It can be an ultimate addition to any decor and style. Most importantly, hardwood flooring is easy to clean and maintain.
Hardwood material is strong enough to last for years. Besides, the warm, inviting, and sophisticated features of hardwood can enhance the value of your property.
The ultimate drawback that comes with this option is the expense.
Reach out to your local hardwood flooring Oshawa company to get more information about where you can have it in your house.
Ceramic
Ceramic flooring is versatile and long-lasting. It can make your space look attractive. It is water and moisture-resistant and easy to clean. You can create beautiful designs by arranging the tiles the way you want. You can get them from a plethora of styles.
On the other side, ceramic flooring can be cold and slippery.
Laminate
The durability of laminate flooring is unparalleled. It is a superb choice and cost-effective to give your kitchen a warmer feel.
The best laminate flooring options available imitates the wood and are extremely durable. Infect, it is the most affordable alternative to hardwood with no special maintenance or waxing required.
Vinyl
Vinyl flooring is one of the types available in many colors and textures. It also imitates the look and feels of ceramic and wood.
Vinyl flooring is easy to install, maintain, and care for. It is smooth to walk on but is prone to scratches. It enhances the soundproofing of your room and is water and mold-resistant.
Stone, carpet, and porcelain tile are also some of the most popular flooring options. But, which flooring could be the best fit for your rooms? Not so hard!
Walk around each room and see which material would match the functionality of each room, fit your layout and lifestyle, and be suitable for your pocket. Learn more.
Kitchen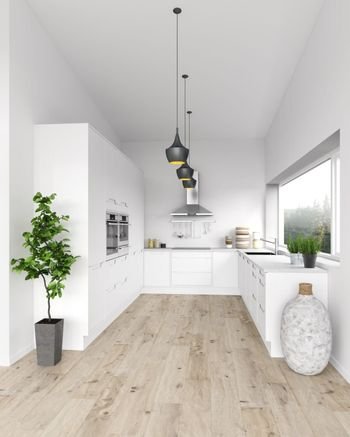 Kitchen flooring must withstand a lot. The flooring option you choose should be durable and strong enough to put up with consistent traffic. It should be easy to maintain and clean. Besides, it should also be comfortable to walk on.
The best recommendation for kitchen flooring is ceramic, vinyl, granite, or pale slate.
Textured tiles are the best option for the kitchen since they offer good adhesion and are not slippery. It is good to avoid smooth flooring that can become slippery even with a little water in the kitchen area. Smooth flooring in kitchens and bathrooms is potentially dangerous.
Bathroom
Bathroom floors should offer a good grip and be humidity and moisture resistant. An ideal flooring option for bathrooms should be easy to clean, maintain, and attractive.
The best recommendations for bathroom floors are ceramic or porcelain tiles (considerably the larger ones that make the space look spacious). Other options are vinyl and natural stone.
Various waterproofing membranes allow you to create water and shower areas the way you want. They seal ceramic tiles underneath, protecting the subfloor, even if the grout is not fully waterproof.
Living Areas
Choose the options that precisely suit the decor and location of your living area. For this area, carpet flooring is more comfortable for sitting and playing than hardwood which is again elegant and timeless for the same space.
The ideal recommendation for a living space goes with hardwood, laminate, carpet, and vinyl.
Rubber floor tiles are the most practical and comfortable option to cover the training space if you have a home gym.
Basement
Consider your basement's temperature and humidity levels when choosing the flooring option for the space. Besides, basements often have less natural lighting than other rooms. Regardless of the flooring type you choose, it is good to add an underlayment to prevent damp rising from the concrete underneath.
The best recommendations for a basement are laminate and vinyl.
Flooring and walls with different materials and colors can portray your basement with an open concept. Consider installing a heated floor for extra comfort.
Garage
Garage floors should be strong enough to resist dirt and tire marks. It should also have the magic to conceal small flaws.
The ideal recommendations for garage flooring are concrete floor paint and epoxy floor coating.
You can increase the durability of your walls by adding a four-inch ceramic molding. It can also give the walls a designer look. Whatever option you choose for each room, it is important to ensure that your chosen option is practical and visually striking. Additionally, building a custom home or redoing the existing one, choosing the best suitable tiles is not everyone's cup of tea. The best ideal is to locate the most reputable tile shop in Oshawa and get professional help.