Education
GRE or GMAT: Some Important Tips for you to choose the Right Exam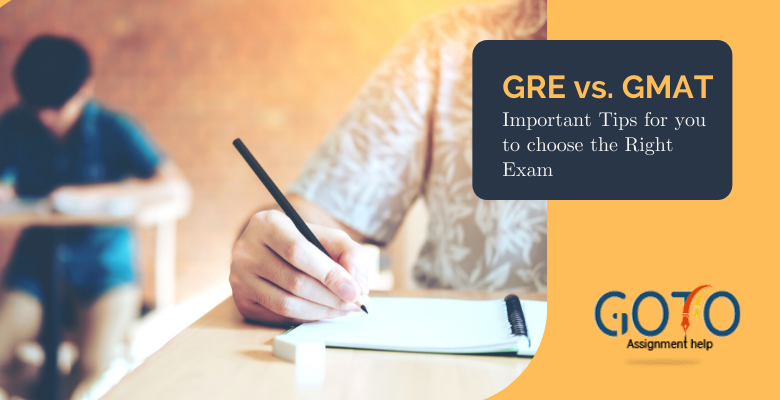 Due to lack of knowledge it has become difficult to choose GRE or GMAT for the students who are applying for higher studies. It creates trouble among them. GRE & GMAT both have different purposes. Let's understand the differences between these two with the help of Australian assignment help experts and it'll help you to choose the right one for you.
Verbal Difficulty between GRE & GMAT
GRE mainly focuses on students' understanding of the reading material and how they come to a conclusion and make a summary of the given passage. GRE has three types of questions i.e. (i) Reading comprehension to judge how well you understand the passage and answer the questions regarding it. (ii) Fill in the blanks with suitable options of words and (iii) Sentence equivalence i.e. you'll be given a sentence and some options and you'll have to choose the right option to complete the sentence that indicates the same meaning.
GMAT judges your understanding capability by giving a material and how you answer the questions regarding it. It includes evaluating arguments and correcting the wrong sentence. It also focuses on three parts i.e. (i) Reading comprehension and solving the questions regarding it or analyzing the part. (ii) Critical reading of a small paragraph and answering the questions & (iii) correcting the wrong sentences to judge your grammatical ability.
GRE is slightly more different compared to GMAT as it focuses on difficult vocabulary and reading passages especially on the grammar.
Quantitative Difficulty between GRE & GMAT
GRE checks your quantitative ability skill by giving problems based on Algebra, Geometry, Data Analysis and Arithmetic. These questions are based on MCQ and numeric entries. Numeric entry based questions need to be filled in the numeric answer instead of just choosing the correct option.

GMAT focuses your math skills besides integrated reasoning. It focuses on data interpretation based on graph, chart etc. integrated reasoning includes graphic interpretation, two-part reasoning, table analysis and data sufficiency followed by a question and two statements from them you've to choose the right option.
How will you make your choice?
It's really difficult to choose any one for yourself. We've already discussed the structure of the question pattern of these two. Now we'll discuss the difficulty level between GRE vs GMAT based on verbal and quantitative ability. Here're some tips for you:
1. Understand clearly what you want!
Ask yourself if you're sure to pursue the course and college you wish to apply for. If you're thinking of pursuing an MBA degree then GMAT is the best option for you. If you're unsure about it then go for the GRE. Everything is based on your decision.
2. Check your ability in Language!
Both the courses need verbal ability. If English is your first language then go for GMAT and if not then GRE is a better option to pursue.
3. Check your ability in Mathematics!
Besides checking verbal skills, students have to check their mathematical skills. If you're good at mathematics then you don't have to worry about it. And if not, then GRE is a better option for you. It's slightly easier than GMAT.
4. Are you Exam Anxious?
You'll be asked whether you're anxious or not regarding your test. If you've tested anxiety then you'll be able to answer only a few questions and feel confused whether these are right or not. In that case GRE is better for you. It gives you the opportunity to check the answer again and change it if needed. In GMAT, if you answer once, you'll not have an opportunity to look back.
5. Check your career goals
Based on your decision you'll choose college. According to your college and course you'll be able to follow your career. Choosing between these two options requires you to pursue your career goals. GMAT is better for management, if you've other options in mind with management then go for GRE.
If you're wondering which one to choose then you can take help from our assignment help Canada experts. We've the best, experienced experts who'll guide you to choose the right option for you.
Related Blog:
Author Bio
Isla Rose completed her Bachelors in Journalism from RMIT University, Australia. Presently, she works as a content writer at GotoAssignmentHelp and assists students with their academics. Event management and sound engineering have always been two of her interest areas.