Education
Ways to Get Cheapest Home Tutors for Your Kids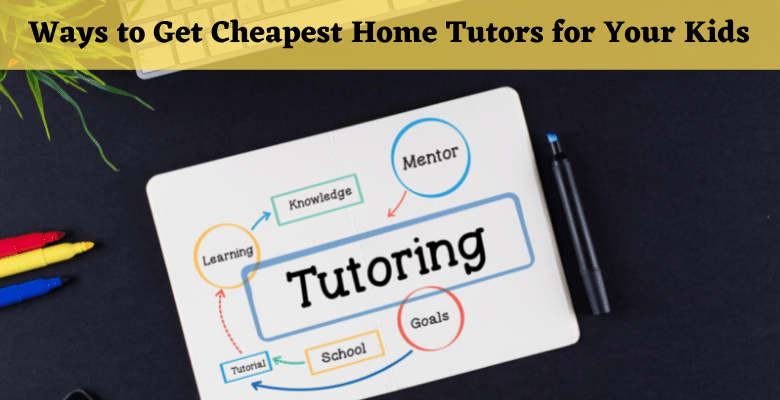 Private tutoring is highly beneficial to your child, but many parents are unaware of the full benefits of this sort of service. It is an excellent method to complement your kids' education and improve academic success.
Many parents think that tutoring is not an option for their families because many private tutors and corporate tutoring firms may be costly.
But, finding affordable and often even free tutoring is much simpler than you would think. In this article, we will show you some ways to get affordable tutors for your kids. For a family on a tight budget, paying for a tutor might be difficult.
If your child is genuinely suffering, you have to understand that your child needs the help of a tutor. Many educational institutions offer tutoring services for free. If your child is having difficulty in school or has learning difficulties, this is essential.
Does Private Tutoring Really Help Students?
According to some research, tutors can help your kids to improve their self-esteem. It may also assist your child to improve their grades; it can be handy in the long run. A student who is confident in themself is more inclined to engage, answer questions, and is less scared of making errors.
Ways to Get Low-Cost Tutors
When you are looking for a home tutor for your child, you must want the best for your child. But do you know where to go for free or low-cost tutoring? Below are some ways to get the cheapest home tutors for your child: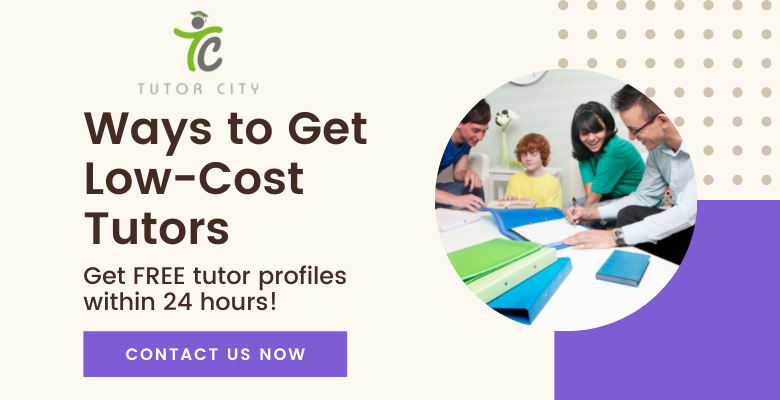 1. Undergraduate Student Tutors
Generally, student tutors who are still completing their education are the most affordable tutor. Those are the most cost-effective since their tuition fees are lower, and their schedule is highly flexible because it is based on their study schedule.
As they are students, they can understand your kid's situation properly. They can give much time to your child, and your kids don't feel shy to talk. It will help your child be talkative and also self-estimate. Children always follow the elder. If the home tutor is punctual and hardworking, your child will see him and also be punctual.
2. Small Groups
A low-cost alternative is to combine resources with other parents and engage a tutor to assist a small number of children with a particular topic. Suppose two or three parents together hire a tutor for their children. The teacher will come and teach them in a group.
It is effective because each student may possibly pay $12.50 if the instructor costs $50 per hour. But you need to make sure that the tutor agrees with this.
Some instructors will only take a certain number of students at a time, or they may already have a set cost per student for group tutoring. Even so, it's worth investigating, particularly if the tutor comes well recommended.
3. Part-time tutors
Part-time teachers can also be your best choice. Some people work half-time and teach students in their free time. They are usually accessible for lessons in the evenings and on weekends.
Part-time tutors are often older and will be able to provide your kids with real-world work experience.
Part-time tutors charge somewhat higher tuition fees than student tutors but not so much.
4. Online Tutoring
Online tutors don't require a physical location and do away with the necessity for anybody to commute. Your computer screen serves as a virtual whiteboard. This can be your virtual home tutor.
Online tutoring has developed as a low-cost option that many families are taking advantage of. Furthermore, online tutoring programs are more adaptable and demand less time commitment from families.
Because many online tutoring programs can be accessed from home, parents may focus on other things instead of providing transportation to and from tutoring. You can also get tips to prepare for CBSE board exam.
But this is never the best choice.
What are the Benefits of Tutoring?
Is your child going behind in school or receiving low grades?
Maybe your child is struggling to keep up with their schoolwork or has lost interest in school. These are indicators that your youngster might need some additional assistance. It's also crucial to remember that virtually any student can benefit from individual tutoring sessions even if none of these indications is present. There are many benefits of tutoring:
Tuition can assist your child in developing study and learning abilities that will prepare them for success throughout their lives.
Private tutors get familiar with your child's unique learning style and adjust their teaching techniques accordingly. They serve as your child's personal tutor.
It helps your kid to prepare for examinations while also focusing on specific issue areas. When your child works with a tutor, their grades and knowledge of the topic will dramatically increase.
Your youngster will learn to take charge of their homework with tutoring. Your kid will also learn to manage their learning speed.
Home private tutoring will help boost your child's self-esteem and confidence by giving them the resources and abilities they need to succeed in school.
Your child will learn to be punctual and study regularly that will apply for the rest of their lives through tutoring. These abilities will assist your child in achieving their goals both inside and outside of the classroom.
Last Word
Finding the appropriate home tutor for your child is not an easy task. Not only must you consider your family's budget, but you must also ensure that the tutor you choose will assist your kid in achieving their objectives and will give the appropriate teaching and advice.
Having a good tutor is not enough; make sure that your child puts in the effort required to improve their grades. As a result, be sure that your kid takes the tutoring seriously and completes the tasks assigned to them. Also, be sure your expectations are reasonable. Tutors are there to assist and guide your child. But your kid has to complete the job.
You have to tell the tutor to provide you with regular reports on how your kids are doing and where to improve. It's also a good idea to tell the tutor ahead of time that you'll be trying out their services for a few weeks to see whether there's any progress in your child's knowledge or grades.