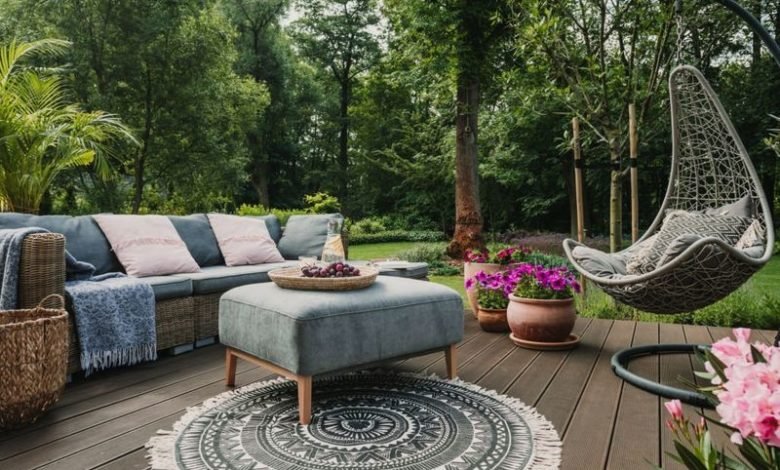 When first landscaping your garden, it is easy to get a sense of the layout.
A feature area provides aesthetic appeal and makes your garden memorable as well as beautiful in the evening or during the day.
The one thing that makes a feature area unique is that it was designed by you!
What Type of Style Are You Going For?
One of the first things you need to decide when planning to create a feature area in your garden is the style of your choice.
The style of your feature area will add a certain amount of formality to the overall look and feel of your garden.
To create a feature area, yard grading will be necessary along with some landscaping. You will need to make sure that you check with local authorities before any grading or landscaping takes place.
Be sure that the area you are working on is not in a flood zone or near sewer lines, gas lines, power lines, and so on.
Where to Place Your Feature Area
The question of where to place your feature area is also important.
Feature areas come in all different shapes and styles. You may decide to greater a water feature using a pond or pool, or you may even decide on a structural feature like one of the beautifully constructed Eco Rooms that are perfect for gardens.
Now, unless you have the space for an entire backyard full of features, then you may be more inclined to consider the ideal spot for creating your feature area and then planning around and for it, this is called "landscaping".
Color Palettes for Your Garden Feature Area
Now that we have figured out what type of style and location for your feature area, it's time to think about colors.
You will want to consider the natural colors of the area you are working with, as well as seasonal considerations of light.
The best way to ensure a cohesive look is to create a color palette based on the colors you have chosen.
This helps to create a sense of harmony throughout your garden.
Garden Ornaments and Accessories to Beautify the Area
To build appeal and add interest to the feature area, garden ornamentals are an ideal choice.
These include such things as sculptures, statues, bonsai trees, bird baths or feeders, and fish. These can be placed in a variety of locations suitable for their intended purpose (for example a sculpture can go anywhere but you'll want to be able to see it).
An ornamental pond or pool also adds to a feature area's uniqueness.
Structural Features
If you have chosen to create a structural feature in your garden it is important that you consider issues of safety as well as aesthetics when creating such an element.
Safety is a huge concern when you have a water structure in your garden.
If you choose to create an ornamental pond or water feature (like the one shown below) be sure that there are no exposed sharp edges that may injure anyone walking through your garden.
Another option is to put in a structure like a gazebo, stand-alone platform, archway, pergola, deck, or eco room.