Finance
Is BitQH Trading App Legit or Scam?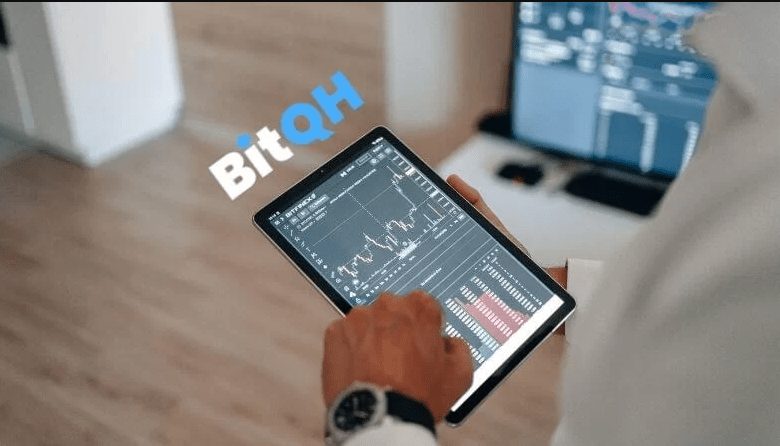 The rate of development of the cryptocurrency market is amazing and dozens of new projects, tokens, as well as various applications appear every day. Trading is considered one of the most promising and profitable activities in the crypto industry. However, not every novice or practicing trader is able to cope with the increased volatility of the cryptocurrency market.
It is for this purpose that dozens of different applications, projects and programs are created that help inexperienced users to carry out crypto trading and make a profit. However, many of these projects turn out to be fraudulent and aimed at getting rich quick for those who created them. The scam industry has gone so far that a dedicated site, Scammerwatch.com, has been created to help identify dangerous projects. Today we will talk about the BitQH app and see if BitQH is a scam project or not.
What is BitHQ?
So, let's start with the main tasks of the BitQH app in our BitQH review. The creators position the project as a unique trading platform with a diverse set of tools and protocols for crypto trading. In its activities, the application uses unique systems and algorithms based on artificial intelligence technologies that allow you to make transactions and carry out active trading without direct human participation.
However, dozens of users began to fill forums and specialized resources and express doubts about the reliability and legality of this application. As it turned out, there are many things recorded in the functioning of the application, indicating that the BitQH application is a scam. This is indicated by several important factors, such as the misleading of its own users with a dodgy system of functioning and trading.
The main resource of a scam project also raises questions, which can be called an exact copy of another project. It is due to this that BitHQ managed to attract the attention of users. In addition, dubious legal entities and brokers that are registered in jurisdictions are involved in transactions. For example, a broker called "Bit Stars" was registered in Belize, which is actively used for money laundering due to loyalist laws.
What Are Crypto Trading Robots And Why You Should Be Cautious About Them
Cryptocurrency trading has gained immense popularity in recent years and it is common to wonder should you use a crypto trading bot. This is due to the increased profitability of the cryptocurrency market due to the increased volatility of such assets as Bitcoin and Ethereum. However, not all investors or beginner crypto enthusiasts are able to absorb the huge amounts of information necessary for successful trading.
Special software has been developed specifically for this purpose. Their goal was the implementation of cryptocurrencies on certain trading strategies, where the user does not take any action. All that was required from the investor is to provide funds. For the most part, crypto bots for trading have become popular among beginners. And it turned out to be a goldmine for scammers who promised huge profits in the first days of trading.
It is often difficult for even experienced investors to distinguish a scam from a real trading bot. Such software has a lot of advantages, such as huge savings in human time, the absence of an emotional component in decision-making, and the speed of transactions. However, it is also a huge risk that the robot will not be able to cope with a sudden trading situation and the investor will lose funds.
In addition, a huge number of applications and bots have appeared on the market, which only pretend to be trading bots, but in fact empty the wallets of investors. With this in mind, it is not recommended for beginners to use crypto bots for trading, as their understanding of the processes in the crypto industry is too small. This makes them easy prey for scam bots.
BitHQ Red Flags
The first alarm signal that inspires uncertainty and raises a lot of questions is that BitQH has two official sites in Google Search. Now remember your long history of searching for the right information or funny memes on Google and tell me when did you see two official sites from Apple, Warner Bros or Tesla? That's it! Therefore, this is the first signal that something is wrong here.

Going to the site, we see two very strange moments. The first is that it turns out that the application is suitable for stock trading, which is a bit ridiculous given the specifics of the cryptocurrency and forex markets. Combining them in one application looks ridiculous. In addition, the registration form has a field with a phone number. Straightaway! No KYC or two-factor authentication.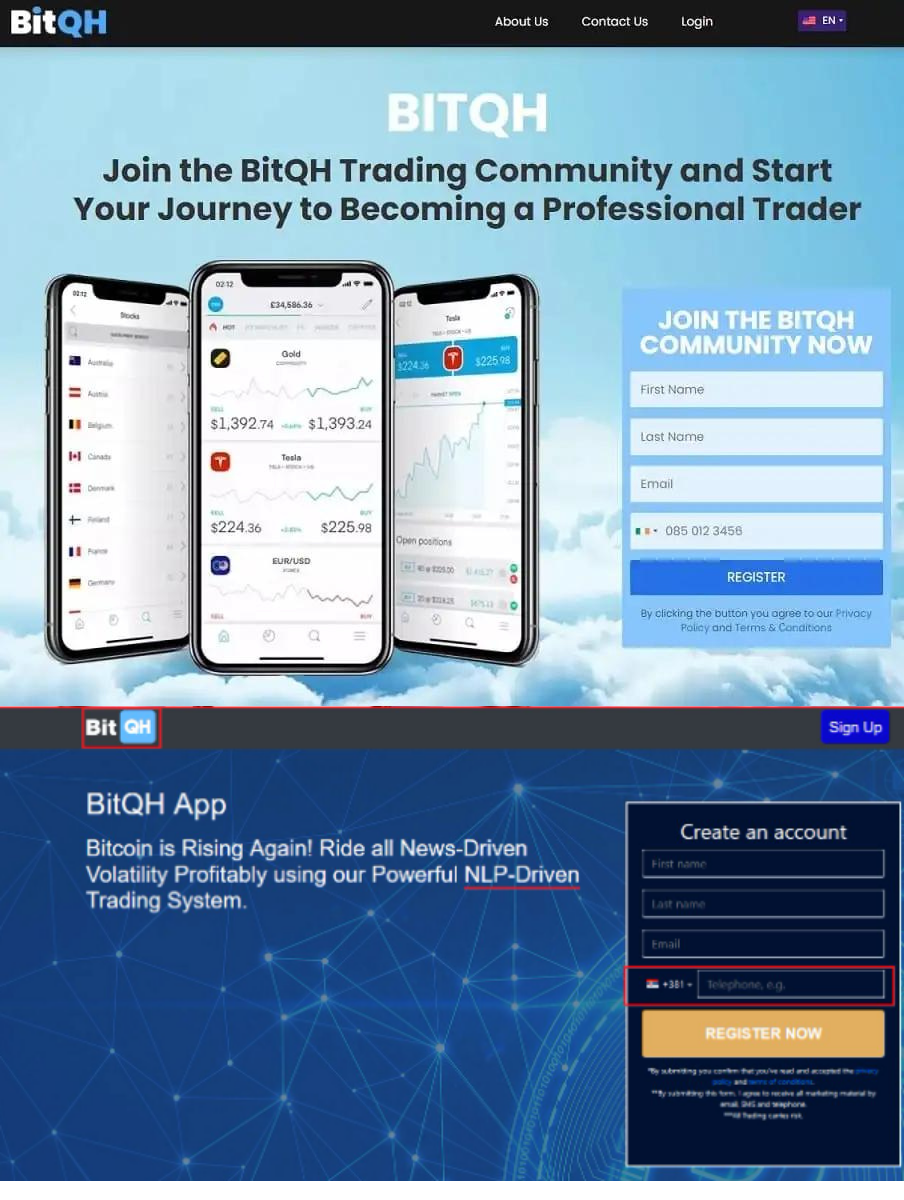 And the main red flag of the BitQH scam app is big or even cosmic profits. This is a classic signal of a scam project, which is mainly used by beginners. The fake scam website claims that the profit will be about 90%, and if you play a little math, it becomes clear that this is a doubling of investments almost every day. With such ambitious promises, by investing $1,000 in just a few months, you can become a millionaire. Why are there so few millionaires?
In addition, the site insists that no personal data of the user (hello, phone number during registration) will be required for trading. Everything is absolutely anonymous and most importantly very profitable. For any experienced crypto investor and just a very attentive person, this will immediately seem like stupidity and a scam.
Conclusions
Based on this, I would like to note once again that there are a lot of projects like BitQH scam. And such projects use the achievements of the latest technologies for their own enrichment. They promise that only a small initial capital is required from the investor, and the application will do the rest. But at the same time, applications require the user's personal data, and subsequently disappear with stolen funds. Therefore, it is extremely important for novice crypto investors to be aware that they need to ignore projects that promise you wealth and require your personal data.
Author
Michael Klias
Crypto enthusiast with 7 years of professional experience. I am passionate about blockchain, finance and technology. I have been working in different organizations from small start-ups to big corporations in the UK and overseas. My focus has always been on improving processes of investing and trading, cryptocurrency, ETFs, and alternative investments. Previously was a reporter with Wilmington Business Journal and business producer for HelathCoin LLC in Hong Kong. Straight talk business crypto executive with strong personal engagement, assertiveness and high energy.