Lifestyle
It's YOUR Wedding: Unique Ideas to Keep Your Wedding Guests Delighted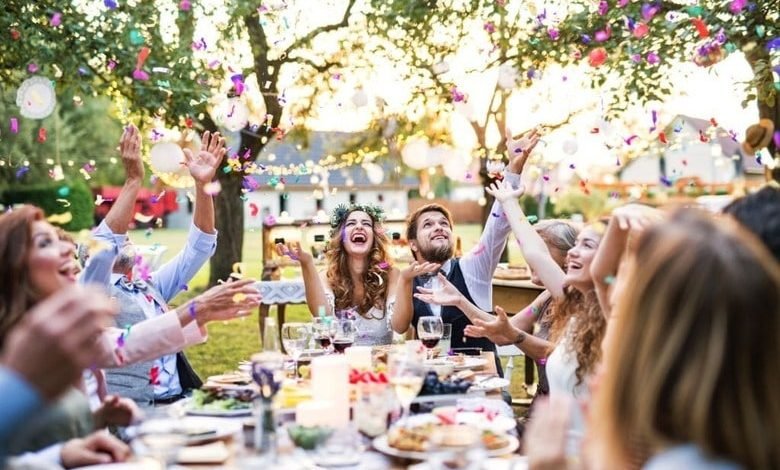 The pressure to make your wedding special, memorable, and enjoyable for your guests only adds to the difficulty of planning it. It can be tough to come up with original ideas that reflect your personality and style when planning a party because there are so many factors to consider, from the location to the food. Fear not!
Here are some fantastic ideas that will help you create a truly extraordinary wedding, ensuring that your guests will be talking about it for years to come. So, let's dive in and explore these innovative ideas to keep your wedding guests delighted.
Start with a Bang: Exciting and Unexpected Arrival Ideas
One of the best ways to set the tone for your big day is with a grand entrance that will leave your guests in awe. Think outside the box and consider these unique arrival ideas:
A yacht wedding: Picture yourself and your partner sailing on a luxurious yacht, with the sun setting behind you and a gentle sea breeze. Your guests will surely be impressed by this incredible entrance, which sets the stage for an unforgettable day on the sea. Plus, this type of wedding isn't just about the entrance; the whole ceremony can take place on board. A yacht wedding experience is the ultimate idea for those hoping for something totally unique and unconventional.
Vintage vehicles: Rent a classic car, such as a Rolls-Royce or a Bentley, to add an air of sophistication and glamour to your arrival. Alternatively, a retro Volkswagen van could be the perfect choice for a laid-back, boho-chic wedding.
Horse-drawn carriage: Embrace the fairytale aspect of your special day by arriving in a beautiful horse-drawn carriage. It's a timeless and romantic option that will leave a lasting impression.
Unconventional Venues: Break the Mold with Your Wedding Location
Choosing a unique venue can add a touch of magic and excitement to your wedding. Here are a few out-of-the-box locations to consider:
A charming lighthouse: If you're a fan of nautical themes or simply adore the sea, consider hosting your wedding at a historic lighthouse. The stunning views and distinctive architecture will provide a memorable backdrop for your vows.
Art galleries and museums: For the cultured and artistic bride, an art gallery or museum can be a sophisticated and inspiring setting for your big day. Your guests will be enamored with the elegant setting amid stunning works of art.
Botanical gardens and greenhouses: If you're a nature lover, why not exchange your vows amidst the lush greenery of a botanical garden or a charming greenhouse? The vibrant colors and fragrances of the plants and flowers will create an enchanting environment for your celebration.
Entertain and Amaze: Unique Performances and Activities for Your Guests
Keep your guests entertained and engaged with these inventive performance and activity ideas:
Interactive food stations: Turn your wedding menu into an exciting culinary adventure by setting up interactive food stations. Guests can create their own sushi rolls, indulge in a gourmet cheese and charcuterie board, or even design their own desserts.
Surprise flash mob: organize a surprise flash mob to liven up your reception. Whether it's your bridal party breaking into a choreographed dance routine or a group of talented singers serenading your guests, this unexpected performance will create a fun and memorable moment.
Caricature artists and roaming magicians: Give your guests a unique souvenir from your special day by hiring caricature artists to create personalized sketches. Roaming magicians can also provide a touch of wonder and amazement, leaving your guests enthralled by their sleight of hand.
A Picture-Perfect Day: Innovative Photo Opportunities for Guests
Capture the joy and excitement of your wedding with these creative photo ideas:
DIY photo booth: Set up a DIY photo booth with a beautiful backdrop, props, and a Polaroid camera. Your guests will have a blast posing for pictures, and you'll end up with a collection of fun, candid snapshots from your big day.
Enlist a professional drone photographer: For breathtaking aerial shots of your wedding, consider hiring a professional drone photographer. These unique images will capture the full scope of your celebration and provide a stunning visual memento.
Themed costume corner: Create a themed costume corner where guests can dress up in vintage outfits, boho-chic accessories, or even masquerade masks. They'll have fun playing dress-up, and the resulting photos will be both stylish and memorable.
Thoughtful Touches: Personalised Details to Make Your Wedding Stand Out
Putting in the extra effort to make your wedding unique and special for your guests will pay off in spades.
Consider these ideas to make your special day truly unique:
Customized welcome bags: Surprise your guests with personalized welcome bags filled with thoughtful items, such as a local guidebook, snacks, and a small keepsake from your wedding.
Signature drinks: Work with a mixologist to create custom cocktails that represent you and your partner. You could even name the drinks after your favorite memories or inside jokes, adding a special touch to your wedding bar.
Handwritten notes: Show your appreciation to your guests with heartfelt, handwritten notes. You can leave these on their seats during the ceremony or include them in their welcome bags. This simple gesture will let your guests know how much their presence means to you.
Unforgettable Wedding Favours
Send your guests home with a special token of your appreciation that they'll cherish for years to come. Here are some unique wedding favor ideas:
Miniature potted plants: Give your guests a living reminder of your wedding day with a small potted plant, such as a succulent or an air plant. Not only will these favors brighten up their homes, but they'll also serve as a lasting reminder of your special day.
Personalized candles: Customize candles with your wedding date, initials, or even a special scent that represents your relationship. Your guests will think of your wedding every time they light the candle.
Artisanal treats: Delight your guests with locally-made treats, such as handmade chocolates, gourmet popcorn, or even a small bottle of flavorful olive oil. These thoughtful favors will give your guests a taste of local flavor and craftsmanship.
Eco-Friendly and Sustainable: Green Ideas for a Conscious Wedding
In today's environmentally conscious world, many couples are looking for ways to reduce their wedding's ecological footprint. You can show your dedication to protecting the planet while also celebrating your love for eco-friendly and sustainable elements.
Here are some green ideas to help you plan a conscious wedding:
Sustainable invitations: Choose eco-friendly materials for your wedding invitations, such as recycled paper, seed paper, or even digital invites. You can also opt for minimal packaging and plant-based inks to reduce waste.
Locally-sourced and organic catering: Support local farmers and reduce your carbon footprint by choosing a catering company that uses locally-sourced, organic ingredients. This will not only result in fresher, tastier food but also promote sustainable agriculture.
Ethical wedding attire: Look for designers and brands that focus on ethical and sustainable practices when choosing your wedding attire. This could include using organic fabrics, implementing fair trade policies, or even creating gowns from recycled materials.
Environmentally-friendly décor: Opt for reusable or biodegradable decorations, such as fabric bunting, potted plants, and repurposed vintage items. You can also choose eco-friendly alternatives to traditional wedding elements, like soy-based candles or plantable confetti.
Charitable donations: Donating to a green cause on behalf of your guests can serve as a meaningful alternative to giving them wedding favors. This thoughtful action will have a lasting impact on the world and encourage your guests to consider how they can be more environmentally responsible in their own lives.
Conclusion
It's only natural that you'd want to make your wedding day unforgettable for your guests, as it's one of the most important and memorable days of your life. You can make sure your guests have a great time and leave with fond memories if you add your own creative flair and a few personal touches.
Go ahead and let your mind wander as you imagine the wedding of your dreams.